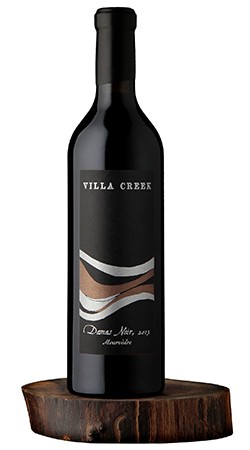 2011 DAMAS NOIR, MAGNUM
Mourvèdre brings a wonderful blend of fruit and savory to the table, especially when stems are included. We started the single variety bottling 5 years ago after we realized that Mourvèdre fills an important niche in our own cellar, and since then, have unearthed a clan of die hard Mourvèdre fans. It's characteristic meat, earth and salinity are enhanced by blueberries and anise making this wine a meal in itself like an everlasting gobstopper. If you haven't had the pleasure of falling into it's grasp, it's likely due to the fact that as of 2013, of the 300,000 acres of red wine grapes planted in California, only 1,022 acres are Mourvèdre. Here we offer an opportunity to try the American wine scene's best kept secret.
Anise, black fruits, mesquite and spice dance together in the glass. The soft, yet structured palate frames boysenberry, rose hips, salted black licorice and Asian spices. This wine is cool and dark, yet intoxicating and sultry. Think Lena Olin. Give it a decant or if you can hold off, some time in the cellar, then enjoy with mesquite grilled bacon-wrapped figs followed by an herb dusted leg of lamb or Provencal boulliabase. Drink 2015 - 2030.
---