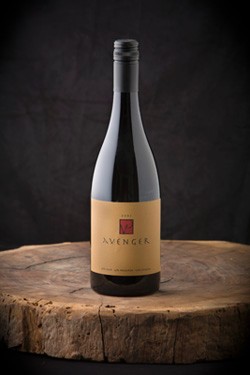 2005 Avenger **SOLD OUT**
Avenger is the blend that launched the brand in 2001. We always try to emulate that special wine that brought many of you to our mailing list back then. Avenger is always built around Syrah some of which has been aged in Hungarian oak barrels imparting that smoky spice that complements the Syrah so well.

This was our first vintage utilizing the amazing fruit off the young Booker vineyard. Lisa and Eric Jensen's meticulous farming have paid off. For being so young, the clusters had amazing uniformity and resulted in wine with rich, clean, pure Syrah fruit.

This wine was handled in the traditional Villa Creek fashion of gently destemming to whole berries, native yeast fermentations, and daily punch downs. This wine was slowly and gently pressed near dry and placed into barrel where it remained for 18 months.

BLEND: 60% Booker Syrah, 20% Booker and Denner Grenache, 20% James Berry Mourvedre
OAK: 50% new, equal parts French, Hungarian and American
"The 2005 Avenger (65% Syrah, 25% Mourvedre, and 10% Grenache) is a deeper ruby/purple color, wonderfully sweet, with an expansive nose of blackberries, cassis, and acacia flowers. Full-bodied, with more structure, muscle, and concentration, this is accessible now but built to hold up for 5-8 years of cellaring. The beautiful purity, the impeccable harmony/equilibrium are hallmarks of these Villa Creek wines, and this has it in spades."
Robert Parker 93 pts
---