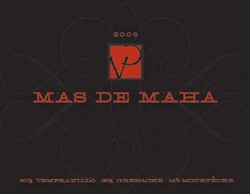 2005 Mas De Maha **SOLD OUT**
Several years back we were offered a box of Tempranillo grapes. Enamoured as we are of the wines of Rioja and Toro the prospect of putting together a Spanish style blend was irresistible. Mas de Maha continues to grace our roster and hold court as the best wine to pair with a steak on the barby. The earth and structure make it a great meat wine. Tempranillo just may be the first grape to be planted on our 65 acre estate which the old timers fondly refer to as "the old Maha ranch".
Simon and Hillary Graves continue to supply us with Tempranillo from their small, family Ohana vineyard on the east side of the Salinas River. James Berry and Denner Vineyard fruit make up rest of the blend. Large yeilds and big flavors are the buzz words across the board for this vintage. The juicy Tempranillo grapes dripping with flavor and tannin comprise most of the blend. The wine was vinified in our standard fashion and barreled down almost dry to finish primary fermentation in barrel. The wine was aged fourteen months in 50% new wood comprised of half French and half American oak.
APPEARANCE: Dark purple. NOSE: Black fruits, cocoa, freshly turned earth, tapenade.
PALETTE: Plush, ripe black fruits, molasses, tabacco and spice, lengthly tannins that will allow for 8-10 years of cellaring.
---