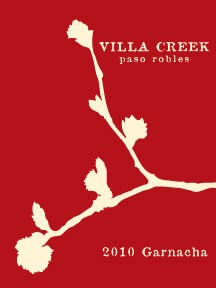 2010 Garnacha **SOLD OUT**
This year's Garnacha has everything I love in Grenache: captivating aromatics, vivid color, and just the right balance of fruit and savory on the palate. The game changer this vintage is what the French call "macération carbonique". We ferment the fruit, predominantly whole cluster, in a sealed tank in an anaerobic environment. Over a period of time, 3 weeks in this case, the berries ferment, skins intact, until the CO2 causes the berries to burst. This makes for highly aromatic, brightly colored wines. 50% of the Grenache was fermented in this fashion. A portion of the remainder was fermented whole cluster and aged in neutral puncheons and the rest was fermented in stainless steel and aged in new French puncheons.
The wine shows notes of Chambord, strawberries, anise, and a hint of middle eastern spices. The lush palate carries a wonderful weight while maintaining a feminine quality and just the right amount of tannin to spend a few years in the cellar. It is rich and hedonistic with a glycerin finish that lasts for over a minute. Think UBER Grenache!
Wine Profile
Review Notes
I was thrilled with the 2010 Garnacha, which is easily one of the highlights among these new releases from Villa Creek. Firm yet silky tannins support layers of expressive red fruit in this strikingly beautiful, resonant wine. All the elements are in the right place. Layers of fruit fill out on the resonant, rich finish. This is the first vintage in which Cris Cherry experimented with carbonic maceration, which he used for about 50% of the wine, mostly done with whole clusters, before moving the wine into neutral barrels. The rest of the wine was fermented in steel and aged in neutral oak. For those who want to skip the technicalities, the wine is flat-out great. In 2010, the Granacha is 100% Grenache from Denner. Anticipated maturity: 2012-2018. Villa Creek is one of my favorite wineries in Paso Robles. The wines are bold, exuberant and bursting with the essence of everything that makes Paso such a compelling region. -Antonio Galloni, Wine Advocate #202, August 2012
---